My Blog
Posts for tag: x-rays
By M L King Dental Center
August 30, 2021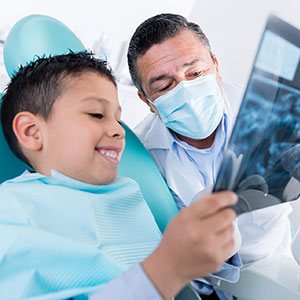 X-rays are so interwoven into dental care that we often don't think twice about them. Even so, we shouldn't take this invisible form of radiation lightly—regular exposure at high levels can affect the human body, especially in children.
The ability of x-rays to pass through tissue greatly improves our ability to diagnose tooth decay and other dental diseases. But x-rays can also potentially harm those same tissues. Because children are more sensitive to x-ray energy, they run a greater risk for cellular damage that could lead to cancer later in life.
In reality, though, these potential risks from x-rays are extremely low—so low, in fact, dental professionals regard their use as altogether safe for children. Here's why.
The ALARA principle. Dentists and other healthcare providers perform x-ray diagnostics based on a principle known as ALARA ("As low as reasonably achievable"). This means dentists only utilize x-rays to gain the most diagnostic benefit at the lowest amounts of radiation exposure. As such, ALARA guides both the development of x-ray equipment and the protocols involved in using them.
Equipment advances. Today's x-ray devices are safer and more efficient, restricting x-ray emissions to a single beam without scattering radiation into the environment. A child's radiation exposure is further lowered with the use of digital x-rays, which produce images in less time than conventional film. Because of these and other advances, children are exposed to less radiation during x-rays than what they typically receive in a day from the outside environment.
Safe practices. Following the ALARA principle, dentists are quite conservative in their use of x-rays in children. The most common means of x-ray is the bitewing, which captures images primarily of the back teeth that are more prone to decay. Bitewings, which require a lower x-ray dosage than a full mouth x-ray, are usually spaced at least six months apart or longer depending on a child's risk for dental disease.
The efficiency of modern radiographic equipment coupled with their judicious use has drastically reduced the amount of x-ray radiation to which a child may be exposed, thus lowering their risk of future health issues. The benefit for saving a child's teeth from disease is well worth their use.
If you would like more information on x-ray safety, please contact us or schedule an appointment for a consultation. You can also learn more about this topic by reading the Dear Doctor magazine article "X-Ray Safety for Children."
By M L King Dental Center
July 24, 2018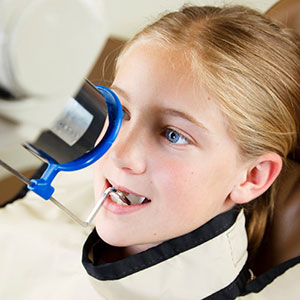 X-ray imaging is a routine part of a child's dental care — and it undeniably makes a difference in preventing and treating dental disease. It's so routine, we can easily forget they're being exposed to an invisible form of electromagnetic radiation.  And just like other sources of radiation, too much x-ray exposure could increase the risk of cancer.
But while it's possible for your child to be over-exposed to x-rays, it's highly unlikely. That's because healthcare professionals like dentists adhere to a standard known as ALARA when considering and administering x-rays. ALARA is an acronym for "as low as reasonably achievable." In other words, we only want to expose a patient to the lowest and safest levels of x-ray dosage and frequency that will achieve the most benefit.
To achieve that standard, professional dental organizations advocate the use of x-rays only after a clinical examination of the patient, as well as a thorough review of their medical history for any usage of x-rays for other conditions. If x-rays are warranted, we then take further precautions to protect the patient and staff, and only use the type of x-ray application that's absolutely necessary. For most children that will be a set of two or four bitewing radiographs, which are quite effective for detecting decay in back teeth.
This dosage of radiation in a session of bitewing radiographs is roughly a fifth of the background radiation in the environment a child may be exposed to every day. By spacing these sessions at least six months apart, we're able to achieve a high level of decay detection at a safe and reasonable amount of x-ray exposure.
On top of that, the digital advances in x-ray imaging have reduced the amount of radiation energy needed to achieve the same results as we once did with film. These lower exposure levels and the ALARA standard helps ensure your child's exposure to x-rays will be well within safe limits.
If you would like more information on the use of x-rays with children, please contact us or schedule an appointment for a consultation. You can also learn more about this topic by reading the Dear Doctor magazine article "X-Ray Safety for Children."
By M L King Dental Center
May 29, 2016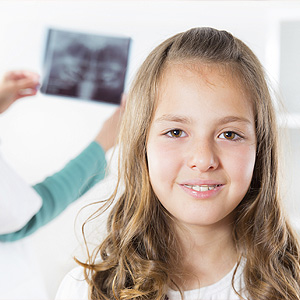 It's important for your child's current and future health that we watch out for tooth decay. Taking x-rays is a critical part of staying one step ahead of this common disease.
But while x-ray imaging is commonplace, we can't forget it's still a form of radiation that could be potentially harmful, especially for a child whose tissues are rapidly developing. We must, therefore, carefully weigh the potential benefits against risk.
This concern has given birth to an important principle in the use of x-rays known as ALARA, an acronym for "As Low As Reasonably Achievable." In basic terms, we want to use the lowest amount of x-ray energy for the shortest period of time to gain the most effectiveness in diagnosing tooth decay and other conditions.
A good example of this principle is a common type of radiograph known as a bitewing. The exposable x-ray film is attached to a plastic devise that looks like a wing; the patient bites down on it to hold it in place while the x-ray exposure takes place. Depending on the number of teeth in a child's mouth, an appointment usually involves 2 to 4 films, and children are typically spaced at six months apart. Frequency of x-rays depends on your child's tooth decay risk: lower risk, less need for frequent intervals.
Each bitewing exposes the child to 2 microsieverts, the standard unit for radiation measurement. This amount of radiation is relatively low: by contrast, we're all exposed to 10 microsieverts of background radiation (natural radiation occurring in the environment) every day or 3,600 microsieverts annually. Even two appointments of four bitewings each year is a fraction of a percent of the background radiation we're exposed to in the same year.
This conservative use of x-rays is well within safe parameters for children. As x-ray technology continues to advance (as with the development of digital imaging) we anticipate the exposure rate to diminish even more. Prudently used, x-rays remain one of our best tools for ensuring your child's teeth are healthy and developing normally.
If you would like more information on the use of x-rays with children, please contact us or schedule an appointment for a consultation. You can also learn more about this topic by reading the Dear Doctor magazine article "X-Ray Safety for Children."