My Blog
Posts for tag: smoking
By M L King Dental Center
August 12, 2020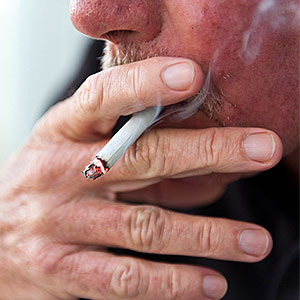 There are important reasons not to smoke, like minimizing your risk for deadly diseases like heart disease or lung cancer. But here's another good reason: Smoking increases your risk of gum disease and possible tooth loss. And although not necessarily life-threatening, losing your teeth can have a negative effect on your overall health.
According to the U.S. Centers for Disease Control, individuals who smoke cigarettes, cigars, pipes or e-cigarettes are twice as likely as non-smokers to develop gum disease, and four times as likely the infection will become advanced. Your risk may also increase if you're regularly exposed to second-hand smoke.
There are a number of reasons for this increased risk. For one, smokers are less likely than non-smokers to recognize they have gum disease, at least initially, because they may not display classic symptoms of an infection like red, swollen or bleeding gums. This happens because the nicotine in tobacco smoke interferes with normal blood circulation. As a result, their gums may appear healthy when they're not.
That same circulation interference can also inhibit the production and supply of antibodies to fight infection. Not only can this intensify the infection, it can also slow healing and complicate treatment. In fact, smokers are more likely to have repeated episodes of infection, a condition called refractory periodontitis.
But there is good news—smoking's effect on your gum health doesn't have to be permanent. As soon as you stop, your body will begin to repair the damage; the longer you abstain from the habit, the more your gum health will improve. For example, one national study found that former smokers who had not smoked for at least eleven years were able to achieve an equal risk of gum disease with someone who had never smoked.
Quitting smoking isn't easy, but it can be done. If abrupt cessation ("cold turkey") is too much for you, there are medically-supported cessation programs using drugs or other techniques that can help you kick the habit. And while it may be a long road, leaving smoking behind is an important step toward improving and maintaining good dental health.
If you would like more information on protecting your gum health, please contact us or schedule an appointment for a consultation. You can also learn more about this topic by reading the Dear Doctor magazine article "Smoking and Gum Disease."
By M L King Dental Center
September 12, 2018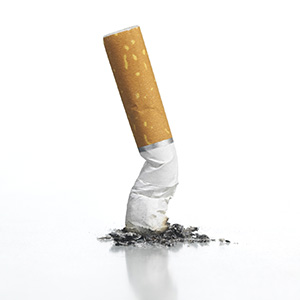 With a 95-plus percent survival rate after ten years, dental implants are one of the most durable replacement restorations available. Implants can potentially last much longer than less expensive options, which could make them a less costly choice in the long run.
But although a rare occurrence, implants can and do fail—often in the first few months. And tobacco smokers in particular make up a sizeable portion of these failures.
The reasons stem from smoking's effect on oral health. Inhaled smoke can actually burn the outer skin layers in the mouth and eventually damage the salivary glands, which can decrease saliva production. Among its functions, saliva provides enzymes to fight disease; it also protects tooth enamel from damaging acid attacks. A chronic "dry mouth," on the other hand, increases the risk of disease.
The chemical nicotine in tobacco also causes problems because it constricts blood vessels in the mouth and skin. The resulting reduced blood flow inhibits the delivery of antibodies to diseased or wounded areas, and so dramatically slows the healing process. As a result, smokers can take longer than non-smokers to recover from diseases like tooth decay or periodontal (gum) disease, or heal after surgery.
Both the higher disease risk and slower healing can impact an implant's ultimate success. Implant durability depends on the gradual integration between bone and the implant's titanium metal post that naturally occurs after placement. But this crucial process can be stymied if an infection resistant to healing arises—a primary reason why smokers experience twice the number of implant failures as non-smokers.
So, what should you do if you're a smoker and wish to consider implants?
First, for both your general and oral health, try to quit smoking before you undergo implant surgery. At the very least, stop smoking a week before implant surgery and for two weeks after to lower your infection risk. And you can further reduce your chances for failure by practicing diligent daily brushing and flossing and seeing your dentist regularly for cleanings and checkups.
It's possible to have a successful experience with implants even if you do smoke. But kicking the habit will definitely improve your odds.
If you would like more information on dental implants, please contact us or schedule an appointment for a consultation. You can also learn more about this topic by reading the Dear Doctor magazine article "Dental Implants & Smoking."