My Blog
Posts for: November, 2020
By M L King Dental Center
November 20, 2020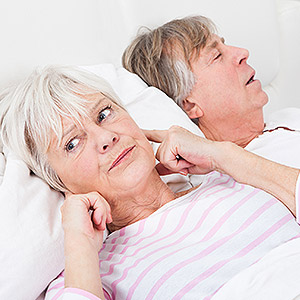 A full night's sleep isn't a luxury—we all need it for a healthy mind and body. But 50-70 million people in the U.S. aren't getting enough sleep because of a chronic sleep disorder like obstructive sleep apnea (OSA).
OSA happens when a sleeper's airway becomes blocked (most commonly by the tongue), cutting off oxygen to the brain. The body rouses from sleep to overcome the blockage. This awakening could last only a few seconds, after which the person immediately goes back to sleep. But it can occur hundreds of times a night and interrupt deeper sleep needed for a good night's rest.
Sleep disorders like OSA are a significant medical problem that could contribute to serious health issues like high blood pressure or cardiovascular disease. If you're experiencing fatigue, irritability or your family's complaints of you snoring, you should see a physician for diagnosis and treatment options.
You should also consider another health professional who could be helpful in dealing with OSA—and may even be able to provide a treatment option: your dentist. Here's how.
A dentist could discover your OSA. Because of twice-a-year dental visits, dentists often see patients more frequently than other healthcare providers. A properly trained dentist could pick up on signs and symptoms of sleep disorder, including patients falling asleep and even snoring while in the dentist's chair.
Dentists are familiar with the mouth. Few healthcare providers focus on the oral cavity like dentists. Besides the teeth and gums, dentists also have extensive knowledge of the tonsils, uvula and tongue that often play a role in sleep disorders. As such, a dentist may notice abnormalities during routine exams that might contribute to airway obstruction during sleep.
Dentists provide a treatment option. Many OSA patients use a CPAP mask to maintain an open airway during sleep. But CPAP therapy can be uncomfortable for some. For mild to moderate cases of OSA, dentists can create an oral appliance based on the patient's mouth dimensions that prevents the tongue from sinking back into the throat.
If you believe you may have OSA or a similar sleep disorder, by all means speak with your doctor. But also mention it to your dentist—your dental provider might hold the key to a better night's sleep.
If you would like more information on how we could help with your sleep apnea symptoms, please contact us or schedule an appointment for a consultation. You can also learn more about this topic by reading the Dear Doctor magazine article "Sleep Disorders & Dentistry."
By M L King Dental Center
November 10, 2020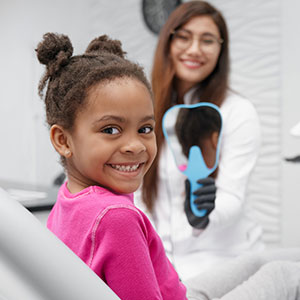 Being a parent can be a rewarding role. But it's also hard work, especially the effort required in keeping children healthy. In that respect, there's one area you don't want to overlook—their dental health.
Taking care of their teeth and gums has two aspects: their current state of dental health and their ongoing development that impacts future health. Fortunately, you can address both the present and the future by focusing on the following areas.
Prioritizing oral hygiene. From the moment your child is born, you'll want to practice daily oral hygiene to keep their teeth and gums clean of disease-causing bacterial plaque. This starts even before teeth erupt—simply wipe their gums with a clean wet cloth after feeding. As teeth emerge, begin brushing each one with a small amount of toothpaste. Around your child's second birthday, start training them to brush and floss on their own.
Limit their sugar intake. The biggest threat to your child's teeth is tooth decay, which is caused by bacteria. These bacteria multiply when they have plenty of sugar available in the mouth, one of their primary food sources. It's important then to reduce the sugar they eat and limit it to mealtimes if possible. Also avoid sending them to bed with a bottle filled with sweetened liquids, including juices and even formula.
Visit the dentist. You're not in this alone—your dentist is your partner for keeping your child's teeth healthy and developing properly. So, begin regular visits when your child's first teeth appear (no later than their first birthday). You should also consider having your child undergo an orthodontic evaluation around age 6 to make sure their bite is developing properly.
Practice oral safety. Over half the dental injuries in children under 7 occur in home settings around furniture. As your child is learning to walk, be aware of things in your home environment like tables and chairs, or hard objects they can place in their mouths. Take action then to move these items or restrict your child's access to them.
Good habits in each of these areas can make it easier to keep your child's teeth and gums healthy and on the right development track. That means good dental health today that could carry on into adulthood.
If you would like more information on children's dental care, please contact us or schedule an appointment for a consultation. You can also learn more about this topic by reading the Dear Doctor magazine article "Top 10 Oral Health Tips For Children."