My Blog
Posts for: February, 2019
By M L King Dental Center
February 19, 2019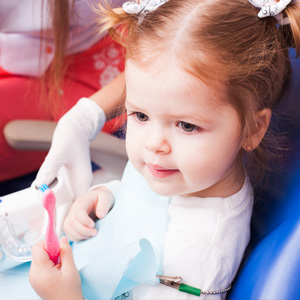 Your child's dental health is just as important as any other aspect of their physical development. That's why we recommend beginning regular dental visits around their first birthday.
Besides getting them used to and comfortable with visiting the dentist, there are other solid reasons for starting this habit by age one. Here are 4 benefits for regular early childhood dental visits.
Disease prevention. Children's teeth are just as susceptible to tooth decay as adults. Even primary (baby) teeth need protection so they can fulfill their role as guides for incoming permanent teeth. Besides monitoring and treatment for decay, we can also perform measures to protect teeth (especially in children at high risk) through topical fluoride applications or sealants.
Bite development. We can get early clues that a child's teeth are not erupting properly and are on the way to developing a poor bite (malocclusion). If so, we can initiate measures to lessen the impact of a developing malocclusion, like installing spacers to help guide an erupting permanent tooth. Early intervention can lessen the extent and cost of later orthodontic treatment.
Accident prevention. Disease isn't the only danger your child's teeth and mouth face. Even young toddlers can suffer mouth injuries falling onto furniture while playing or learning to walk. And the risk doesn't diminish as they get older, especially if they're active in sports. We can advise you on accident prevention tips and help fashion a custom mouth guard for that budding athlete in your family.
Caregiver assistance. The most important aspect of children's dental care is what happens every day at home. We can serve as your dental "coaches" to help you get on the right track with daily brushing and flossing, as well as give you helpful tips on good dietary habits that promote nutrition and deter dental disease. We'll also help you work through other childhood issues like teething, thumb sucking or teeth grinding.
Think of us as your partners when it comes to your child's dental care. We'll do our part, and help you do your part too.
If you would like more information on children's preventive care, please contact us or schedule an appointment for a consultation.
By M L King Dental Center
February 09, 2019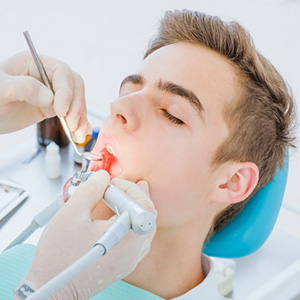 Long ago dental work could be painful and stressful—often for both patient and practitioner. Thankfully, that time is long past: today, most procedures are painless in large part due to local anesthesia.
Local anesthetics are numbing substances applied to specific areas of the body like the teeth and gums to temporarily block pain during a procedure. And because they only affect a localized area of the body, you remain conscious and alert throughout the procedure.
To achieve the level of numbing necessary for dental work, we often need to deaden the gums using a needle to deliver the anesthetic. But then this poses a secondary pain concern—the needle stick itself.
Again, topical anesthesia comes to the rescue in the form of a swab, patch or spray applying an anesthetic directly to the top layer of the gums at the injection site. This numbs the area and prevents you from feeling the needle stick. It's highly probable, therefore, that from start to finish you won't feel any discomfort during your dental work except perhaps for a little pressure.
Local anesthesia truly is a game changer for dental care—and not just for the patient. A dentist who's concerned about their patient's comfort level may work hurriedly to complete a procedure. But if their patient is relaxed, the dentist can work calmly and methodically. The result is better, more focused care.
For all its improvements in the patient experience, though, there has been one consistent complaint—the numbness that often lingers for a while after the procedure is over. But there have been advances in recent years that have helped reduce this irritation: new anesthetic agents (even some that can reverse the anesthetic effect) and fine-tuned dosages can help keep residual numbing to a minimum.
Not all procedures like routine teeth cleanings or enamel shaping require anesthesia. But when it's appropriate, local anesthesia can make your next dental visit much more pleasant.
If you would like more information on how anesthesia benefits your dental care, please contact us or schedule an appointment for a consultation. You can also learn more about this topic by reading the Dear Doctor magazine article "Local Anesthesia for Pain-Free Dentistry."